Below are resources that you may find useful to assist you on your journey to health, and to help maintain your health and wellbeing.
Note: May contain affiliate links.
The Glutenology™ Masterclass
Learn why 92% of those going gluten free continue to struggle with chronic inflammation, how most lab testing for gluten sensitivity is inaccurate and leads to confusion, what gluten is and why it's important to you, how to find gluten in your foods (even when manufacturers try to hide it from you), how to identify foods and additives that mimic gluten and cause persistent problems and what you can do when you've gone gluten free and still experience health issues. All reasons not to miss The Glutenology™ MasterClass, online and free from September 15-19, 2021. Register now!
Wisdom of the Body Masterclass
The Wisdom of the Body Masterclass will help you reconnect with your body's innate wisdom and capacity for wholeness, healing and regeneration. With 7 masterclass modules and daily guided practices, together with supporting expert interviews, you'll learn how to access your body's innate wisdom to address the underlying cause of all physical illness, emotional stress and energetic disconnection to unlock greater health, happiness, abundance and life fulfillment. All reasons not to miss the Wisdom of the Body Masterclass, online and free from September 20-26, 2021. Register now!
The Global Energy Healing Summit
40 energy healers teach you how to harness (and master) the flow of energy to achieve health, wealth, and harmony in every aspect of your life. Register now!
Food For Health Masterclass
Looking for a sign that it's time to take charge of your healthy-eating habits? Then this is it! Join this free masterclass and get the inspiration you need to make your healthy habits stick. John Robbins is a world-renowned author, and this free masterclass will leave you feeling inspired and motivated to live your healthiest life!
HealthMeans
Fill your virtual medicine cabinet with the wisdom from such health-improving experts as Dr. Izabella Wentz, Sayer Ji, Dr. Amy Myers, Dr. Jay Davidson, Sean Croxton, Trudy Scott, Dr. Joseph Mercola, Dr. David Perlmutter, Dr. Kelly Brogan and more!
Start your 14-day free trial for HealthMeans (no payment info required).
Make HealthMeans part of your journey to improved health:
– 100s of experts
– 1000s of expert talks
– Save your favourite talks to your personal 'library'
– Browse channels on more than 70 health concerns
– Search and learn from your favourite experts
Click here to access, or click on the banner below.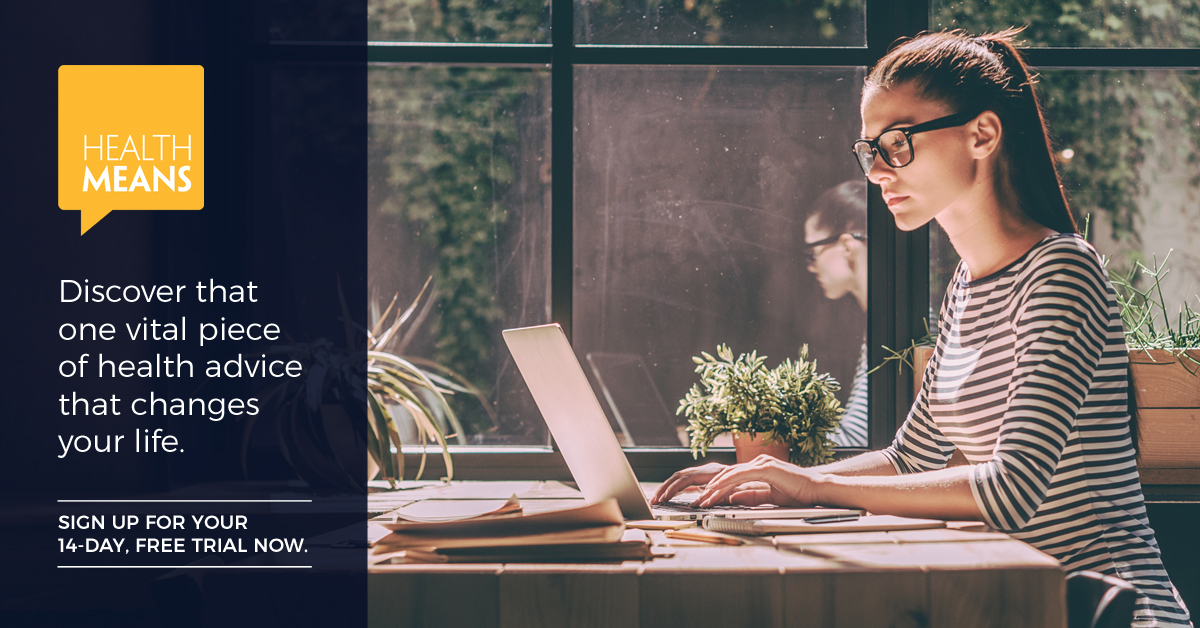 Calculate Your BMI:
NOTE: This calculator is only for adults and should not be used for children.
BMI stands for Body Mass Index. Your BMI is an estimate only of whether you are underweight, a healthy weight, overweight, or obese in relation to your height. It's important to note that BMI doesn't directly measure fat or reflect body fat distribution. This calculator only provides an estimate of body fatness, as it only takes your height and weight into account. Certain populations should not use this calculator, such as women who are pregnant or lactating, children, people with very athletic builds, and the elderly who have a lot of muscle loss.
BMI less than 18.5 = underweight
BMI between 18.5–24.9 = normal weight
BMI between 25–29.9 = overweight
BMI of 30 or more = obese
Meal Plans
Real Plans is an online menu planner that's turned meal planning on its head. It gives you all the tools to provide healthy meals for you and your family. For more information, click the banner below or click here.